I watched in mild horror 'Question Period' yesterday. Horror, not because CTV is too cheap to broadcast the show in HD, but because of the nonsense delivered on behalf of Alberta's 'Ethical Oil' lobby by Huffington Post's Kathryn Marshall . Her spiel was more about trying to trap Eric Swanson of Dogwood Initiative with circuitous and unrelated arguments rather than engaging in honest discussion.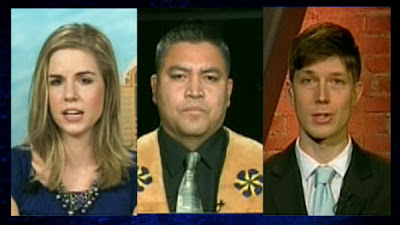 Marshall, Terry Teegee of the Sekani Tribal Council, Swanson
It wasn't just Marshall's distracting from the issue which stunk; it was her claims about 'foreign influence' in the upcoming Northern Gateway hearings. I just wish Eric would have come back with the information contained in Alison's excellent post on the 'foreign influence' and foreign investment in those hearings .
"Ten companies have contributed $10 million each to help Enbridge finance the regulatory approval process, Enbridge spokesman Paul Stanway said in October.
China Petroleum & Chemical Corp. also known as Sinopec, was previously the only company that had publicly stated its participation."
I also wish Swanson had countered 'Ethical Oil's' charges that this must be a 'Canadian decision'. No Kathryn , this not purely about Canada – it is a British Columbia decision, not just Canada's and certainly not Alberta's.
Alison's entire post needs to be broadcast widely so everyone has sufficient information to counter the dishonest spin from the Snake 'Ethical Oil' industry.
X-posted at Let Freedom Rain .